Parallel Working Session "Dialogue: What It Means, What It Entails," Hotel Azadi, Tehran, 10 May 2005.
From left: Ambassador Noel Brown, Friends of the UN, New York; Prof. Hisae Nakanishi, Nagoya University, Japan; Prof. Nay Htun, University of Peace, New York, USA; Prof. Mary Evelyn Tucker, Harvard Forum on Religion and Ecology, Harvard University, Boston, USA; Prof. Hans Koechler, Chair, Dept. of Philosophy, University of Innsbruck, Austria, and President of the International Progress Organization; Dr. Ali Paya, University of Westminister, London, and National Research Institute of Science Policy (Iran).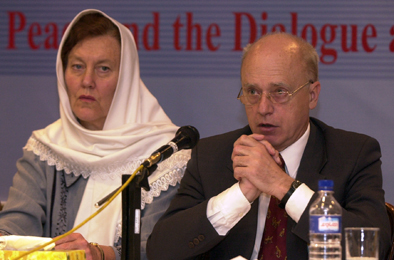 Prof. Mary Evelyn Tucker (Harvard University, USA) and Prof. Hans Koechler at the panel discussion on the notion and implications of civilizational dialogue.